| | |
| --- | --- |
| | Kiriam Thompson |
Location: Barrie, On
E-mail:
This email address is being protected from spambots. You need JavaScript enabled to view it.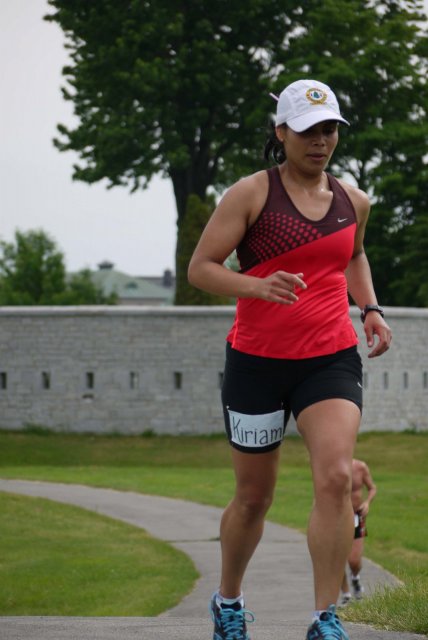 Website:
Occupation: Serving member of the Canadian Forces Primary Reserve, as a Resource Management Clerk since 2001. Working for Canadian Forces Recruiting Group HQ since 2002.
Height: 5'2"
Weight:124 lbs
Birthplace: El Salvador, CA
Date of Birth: 29 Oct 77
Years running: Since 2007
Years running ultras: Since 2010
Shoes I run in: Brooks and Solomon running shoes
Favorite running surface: Trail
Some ultras I have completed: Run for the Toad 50K, Vulture Bait 50K, Dirty Girls 6 hrs and 24 hrs, Sulphur Springs 50mile, Sri Chinmoy Self-Transcendence 6Hr, Limberlost Challenge 56K.
Best Performances: On stage, at the Ford Centre of the performing Arts.
Community Involvement: Treasurer of the Canadian Forces Base Borden community Council since 2010, continuous United Way volunteer through the Canadian Forces, President of the Borden Striders Running Club since June 2012
Ultra achievement I am most proud of: Limberlost Challenge 201256K(7:15:33)
Ultras I haven't done but really want to:
Haliburton
Forest
Typical training week: I try to run as much as I can. It can challenging when you have kids, when not training 2 short runs and a 20 K run on Sundays with the Borden Striders Club.
Injury history:
Favorite ultra foods: Protein/Energy bars
Favorite ultra beverages: Accelerade by Hammer Nutrition, coconut water.
Things I like most about ultras: The challenge
Things I hate most about ultras: Always the halfway point of the race
What got me started doing ultras: When a realized that with the support of my friends from the Borden Striders Running Club that I could run longer.
Ultrarunning heroes: I'll let you know one day
Favourite quote(s): Oh! The thinks you can think if only you try ( Dr Seuss) and " Keep Calm and Carry On"