| | |
| --- | --- |
| | Michel Gouin |
ADDRESS : Drummondville, Québec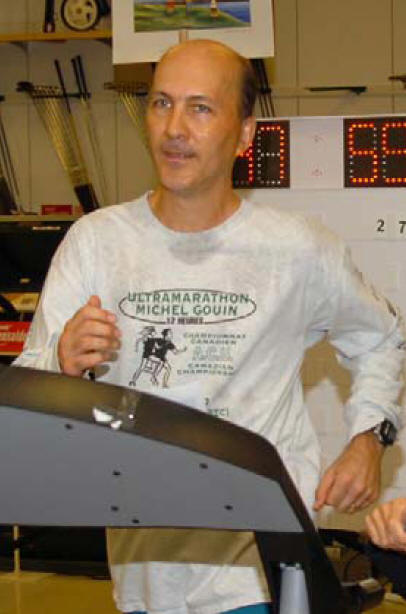 Web Site:
www.michelgouin.com
E-mail :
This email address is being protected from spambots. You need JavaScript enabled to view it.
Occupation :
Director of an organization providing assistance to intellectual handicaped people since 2000; Also Director of an organization providing assistance to senior citizens, for over 10 years.
Status :
Married with one child. My wife Chantal and my son Tommy are the most important people in my life.
Height :
5' 7''
Weight :
152
Birthplace :
Drummondville, Quebec in 1960
Years running :
1980
Ultra running:
1989
Involvement in running (sport) community :
Co-race director of two races :

12 hours race since 2001
48 hour race since 2005

Volunter at the Drummondville Cascades Triathlon
Quebec rep of ACU since 2003
Achievement :
Participation in over 500 races and 75 ultras. Representing Canada in summer 2005 at the World Challenge in Austria is the one I am particularly proud of.
In 2004, I did walk / run across Canada from coast to coast for the Children wish foundation, so from the Pacific to the Atlantic.
My ultra running hero: I have many, but few in particular : Phil Latulippe, Michel Careau and Odino Solino.