| | |
| --- | --- |
| | Nadeem Khan |
Location: Buffalo
E-mail: This email address is being protected from spambots. You need JavaScript enabled to view it.
Occupation: Radiation Oncology Medical Physicist
Height: 169 cm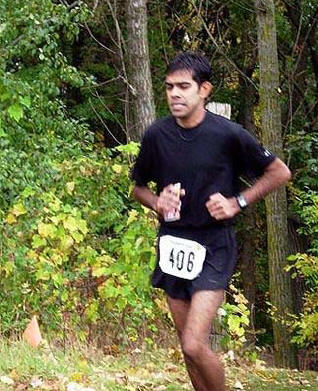 Weight: 110 lbs
Birthplace: India
Dates the birth: 29 December 1978
Year in ultramarathon: since 2001
Nadeem Khan is two-time member of the Canadian 24 Hour Ultramarathon team. He has run for Canada in Taipei, Taiwan (2006) and Drummondville, Quebec (2007).
He has run several ultra races in the Ontario Ultra Series having finished second in the Series in 2004 and winning it in 2005.
He is currently on the Board of Directors and the Executive Council for the International Association of Ultrarunners (IAU). He is the Director of Communications for the IAU and the Chair of the Medical Committee.
Nadeem is the Media and Communications Officer for the Commonwealth Association of Mountain and Ultradistance Running (CAMUR). He also hosted the 1st and 2nd Commonwealth Mountain and Ultra Distance Championships in Keswick and North Wales, respectively.
Nationally, he is also the Assistant Manager of the Canadian National Ultramarathon team since 2007. Furthermore, he is the Vice President of the Association of Canadian Ultramarathoners (ACU) and the Chair of the Medical Committee.
He has been running for 20 years and has been attempting ultras since 2000. It was Nadeem's father who first coached him at a young age of 10 and he still counts him as the biggest supporter of his running endeavours.
In grade/high school and early university years, Nadeem was a track and middle distance runner. Then at the turn of the century, he ventured into ultra running and has been thankful ever since to be introduced to such a wonderful set of people.
Thanks to running, Nadeem has been able to combine two of his passions,running and travelling. He has run in several countries in many continents. Growing up in Saudi Arabia and running for the Saad Track Club under Coach Ian Wilson, he has also had the opportunity to train with several elite British, Kenyan and Ethiopian runners.
Nadeem has been to several Ultramarathon world events as an athlete and an official and has always been humbled by the atmosphere at these events. What epitomises the athletes is all of them running for one common goal,running for their country under one flag, doing the best they can supporting each other through out the event.
In local events, he runs for the Rouge River Road Runners and the Ultimate Warriors. Both clubs are based out of Toronto.
He went to high-school at Woburn Collegiate Institute in Toronto and did his undergraduate at the University of Toronto. For five years he worked as the Policy Advisor for the City of Toronto before moving to University of Toledo for graduate school and residency.
Currently, Nadeem is living in Buffalo working as a Radiation Oncology Medical Physicist for Physics Services Inc. out of Western New York.