The first edition of the Lesotho Ultra Trail goes Saturday November 30th from the Maliba Mountain Lodge. The race is a 55km event through the beautiful and remote Maluti Mountains in Ts'ehlanyane National Park.
The course boasts over 10,000 feet of elevation gain (3155 meters) with the highest point on the course topping out at 10,233 feet (3120 meters).
The country of Lesotho is a landlocked country and an enclave completely surrounded by its only neighbor, South Africa. It is a small country with a population of roughly 2 million people. It is the only independent state in the world that lies over 3280 feet (1000 meters) in elevation. The lowest point of the country is 4600 feet (1400 meters) and 80% of the country lies above 6000 feet (1800 meters). With terrain like that its no wonder there is plenty of excitement for top notch runners from South Africa and abroad coming to tackle the Lesotho Ultra Trail.
The runners are being hosted at the spectacular Maliba Mountain Lodge buried deep in the heart of Ts'ehlanyane National Park.
Runners from South Africa, Australia, Canada, the United States and others will be tackling the course which will no doubt provide endless vistas and views.
Canada's National Team Member Stacie Carrigan is taking part in the inaugural running. I asked her for a few thoughts before embarking on the journey tomorrow.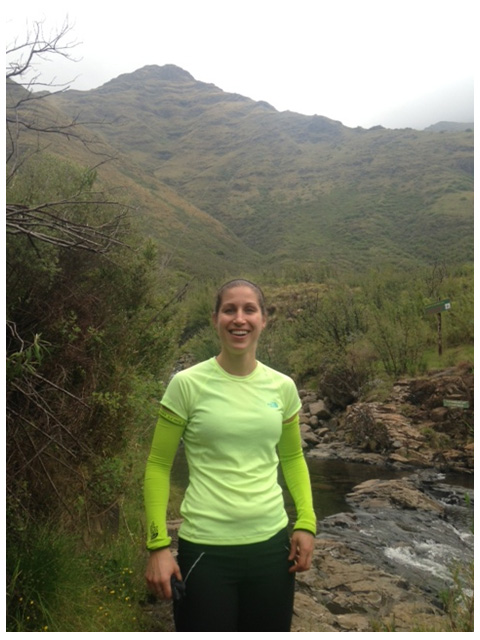 RM: What are your impressions of the race course and the area of Lesotho hosting the event?
SC: The mountains and the National Park are breath taking. The course looks amazing and the climbs will definitely be a challenge. The reward at the summits will be worth the effort.
The villages we have passed through despite not having much everyone seems happy and lively. Definitely a great experience to be here.
RM: You have competed internationally for Canada at the World Trail Championships in Wales this past summer. How does that help you heading into International race number 2?
SC: It helped with my confidence. I've also had some more race experience to draw from and learn.
RM: Since winning the Canadian National Trail 50km Championships at the Run for the Toad, how has training been?
SC: After the Toad I thought my season was done. Once the opportunity came to race in Lesotho the excitement helped refocus and ramp back into race mode. Also the idea of heading to summer and get out of running in Kelowna in -10C weather helped!
RM: If there is karaoke at the post race party what would be your song of choice?
SC: Tom Petty "Won't Back Down"
RM: Any final thoughts?
SC: I'm excited to take in this experience, enjoy the scenery, the camaraderie and the day.
For live race updates you can follow me on twitter @RyneMelcher and the hashtag for the event is #LUT2013