| | |
| --- | --- |
| | Armand Leblanc |
Address: 36 Forestwood Dr, Angus, Ontario, L0M1B3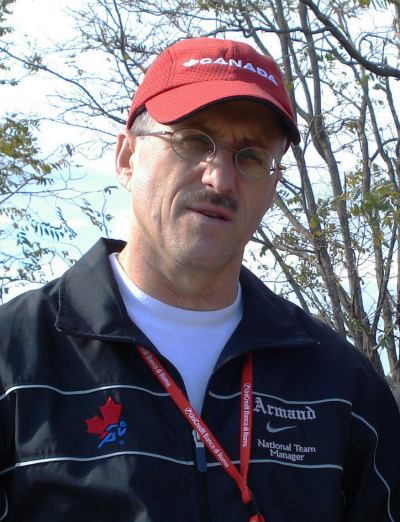 E-mail: This email address is being protected from spambots. You need JavaScript enabled to view it.
Occupation: Retired Warrant Officer after serving 30 years in the Canadian Air Force as a Logistics Supply Technician.
Currently Contractor National Stocktaking Investigator
Small business owner for the last 40 years specializing in Custom furniture, reproduction of antiques and restoration.
Status: Married, 2 Children
Height: 5' 8"
Weight: 160
Birthplace: Sept-Iles, Quebec
Date of Birth: Aug/31/1956
Years running: Since 1988
Years running ultras: Since 1988
Involvement in the Running community:
1988/1991, Committee member Lahr Harriers, Germany.
1991/94, President and founder of Borden Striders Running Club, Ontario, Canada
1991/94, Race Director 2 annual events, Borden, Ontario, Canada
1995/98, President and founder Vedder Running Club, Chilliwack, British Columbia, Canada
1995/98, Race Director 2 annual events, Chilliwack, British Columbia, Canada. Fundraiser for the Military Police Fund for Blind Children.
1996, Official for Track and Field at the BC Summer Games for disabled athletes.
1997/98, Running events consultant and organizer for various events in BC.
1999/04, President Borden Striders Running Club with over 50 members. Coordinates training and development for all level of fitness.
1999/07, Race director and organizer of annual Trail Running Series of 5 shorter events ranging from 5k to a Half Marathon, 2 Yours Truly 50k and a 6 Hrs Ultra annually. Organize monthly All Comers Track Meet for athletes of all levels from Dec to Apr annually. Most events are also fundraiser for various charitable organizations.
Running events consultant for planning route, promotion, finish line management and results.

Involvement at the National Level

President of the (ACU) Association Canadian Ultramarathoners (2011)
National Manager for Team Canada since 2003 representing Canada at the World Championship events. Responsible for the Selection of the National Teams (Men's and Women's) that will represent Canada at the World Championship 100K, World Championship 24 Hrs and World Trail Championship. Also responsible for all the logistics before, during and after these events.
Required to travel to World events as National Team Manager as well as representative of the ACU during the International IAU Congress every two years and exercising electing rights for Canada during elections for committee members.
Direct liaison with Athletics Canada under the National Team program.
Oversees the National Championship Series for the Association of Canadian Ultramarathoners, providing venues for national championships at the 50K, 50 Miles, 100K, 100 Miles distances as well as 6, 12, 24, 48 Hrs events on road or trail.
Oversees the International Ultramarathons Association events Labeling System ensuring that Canadian events are labeled (Gold, Silver, and Bronze) in order to enable our Athletes to qualify for the National Teams and be entitle to funding.
Oversees the Canadian Ultramarathons Records, ensuring records are filed and awards are distributed.

Involvement at the International Level

Represent Canada and the ACU at all World Championship events in the capacity of National Team Manager.
Appointed to the International Association Ultramarathons major Competitions Record committee, responsible for maintaining all results (individual and teams) of World Championships events.
Appointed to the International Association Ultramarathons technical committee.

Other community contributions

1991/1998, swimming official with Swim Canada, officiating at regional meets in Ontario, British Columbia and at the BC Summer Games for disabled athletes.

Personal Achievements:

Completed over 140 marathons and ultramarathons in 10 countries on 3 continents.

Some ultras I have completed: Bitche 100km France, Mulhouse 100km France, Chancellor 100km Boston, Haney/Harrison 100km BC, ACU Canadian National Championship 100km St-Donat QC, Niagara 100km, World Aids Day 24 hrs Waterloo, Levis 100k QC, Greater Toronto 100k Provincial Championship, US National Championship 100k Pittsburg.